About two weeks ago, I was talking to a former colleague of mine in higher ed about my podcast series, 10 Minutes to Better Patient Communication. Knowing my background is not in healthcare, he asked, with some surprise, "You have 45 episodes? On different topics?"
"Yes," I said proudly. "New one every 2 weeks."
The look on his face said, "Are you crazy? What are you doing?"
Last month, I was at a half-day workshop on hypertension. I am not a medical professional. I had no idea what was being talked about most of the time!
"What am I doing here?!" I asked myself more than once, as I hoped to hear someone make reference to how patient education and communication came into the picture.
On this site and in the podcast series, I front the fact that I'm a literacy person, I'm from higher ed, a researcher and educator and former classroom teacher. I'm even a policy geek.
Why did I decide to cross from the education sector into the health sector? What am I doing here?
I write and talk about health literacy, and digital health literacy, and patient education, and health communication. With a constant drumbeat of reflective practice, equity, avoiding deficit perspectives, being culturally- and linguistically-relevant.
What on earth for?
It's taken me about three years, but I finally have an answer. I'm building BRIDGES.
An acronym and a working metaphor
I've talked about 'building bridges' many times, including here, and here, and here. I used bridge-building language in my first grand rounds on health literacy in 2016. And this history with the metaphor ultimately helped me create the BRIDGES acronym.
BRIDGES is what I'm about. BRIDGES is the fundamentals of what I do. BRIDGES is my structure.
BRIDGES is the metaphor for the work I've been trying to imagine in the world. It's also a way of understanding my assumptions–and my aspirations!
In a way, BRIDGES is also the story of my last three years as a professional. Crossing sectors. Negotiating different people, and spaces, and institutions.
And I invite you to build BRIDGES through everything I do. This site, the podcast series, my workshops and courses, my consulting work. All of it.
What does BRIDGES mean?
There is a lot to say. This is the introduction, so I'll keep it to the most fundamental concepts, the most important info.
B – Bi-directional. This comes from my work in mentoring as much as anything else. Bi-directional refers to many things including bi-directional communication, learning, participation, and movement. Traffic on these bridges is in both directions!
R – Resource-based. Resource-based is an important concept for me. I use it, as many do, to contrast with a deficit perspective. This is a focus on the resources, strengths, assets, or funds of knowledge of an individual or group. That's not to say we ever lose sight of the bigger picture and the systems surrounding (see G: global and local).
I – Inquiry as stance. Perhaps you've heard inquiry, or inquiry-based learning, used in the sense of asking questions about, or taking an attitude of discovery toward, a project. The concept of inquiry has been central to the work of Marilyn Cochran-Smith and Susan Lytle (my mentor) for nearly three decades. Inquiry as Stance is more than the title of their 2009 book; it is also a profound concept and a way of being in the world. This latest iteration of their revolutionary work takes inquiry places you might never have imagined. (Writing this to you has been part of my inquiry into my own practices!)
D – Digital, face to face, and multimodal. This one's fairly straightforward! This is about modes of communication as much as it's about literacy, learning, and relationship-building. "Multimodal," in the research traditions I'm coming from, means more than one way of communicating meaning. Think: speech, written text, graphics, video, signs, etc. Any combination of modes is 'multimodal.'
G – Global and local. "Global" and "local" have particular meaning in the literacy research and policy traditions I come from. I've presented on this at a conference as it refers to health literacy. There are also several implications for equity (see below). For now, I'll say both are important to keep an eye on, at all times, and it's the interplay of the global and local to which I try to pay special attention.
E – Equity orientation. I have an equity orientation in what I do, how I do it, and why I do it. What does this mean? Lots. In my educational work, for example, it means not only teaching about equity but teaching for equity and teaching in equitable ways. I owe this to my doctoral program at Penn GSE. Equity is a hot term. So I am learning to be careful how I use it, and what assumptions I'm making when others use it.
S – Social and situated. Let me just say this: Learning is social. Language is social. Literacy is social. Health is social. OK, moving on. "Situated" refers to how I approach and research social events and practices. In short, I study how people learn and use language in the context of their everyday lives. So my work is 'situated' in real-world happenings – what's going on, and what it means to the people involved.
I also want to share a peek at how I'm applying the building BRIDGES approach at my upcoming webinar (and give you a sneak preview of our groovy illustrations!)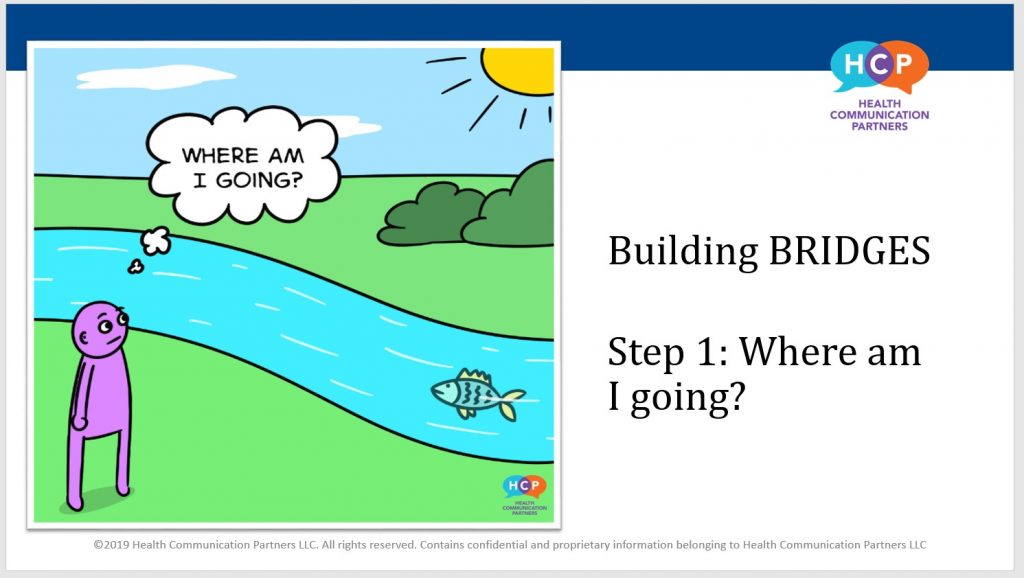 BRIDGE building and you
It's taken me years to be able to articulate what I'm doing, as well as why and how I'm doing it, to people who ask. That is why I'm delighted to share the building BRIDGES approach with you.
But it's not all about me!
Through everything I do, and my inquiry into it, I'm hoping to support what you're doing. That's why I'm asking you to use these ideas to think with me. I want to hear your thoughts and questions.
Over time, I'll be coming back and reflecting, poking at this, and unpacking some more. Won't you join me?
Let's build some BRIDGES together!