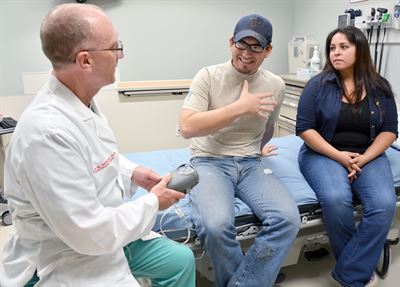 Communication impacts people's access to health care and their health outcomes. Health disparities persist in the U.S., and some have recently worsened, especially for poor and uninsured populations (1). Social and cultural inequalities permeate the health care system, and can affect patients through individual- and systems-level communication (2). Health systems' failure to address language, health literacy, and culture can result in patient safety and adverse events (3).
"Foundations of Equitable Interpersonal Communication in Health" is a hybrid course for all patient-facing employees. It is about improving health care quality, patient safety, patient engagement, and the experiences individuals have within the health care system. This course was found to make a statistically significant increase in participants' reported knowledge, skill, and confidence in communication.
Increase Communication Effectiveness
This course is designed to help close the gaps in health care access, quality, and outcomes for underserved populations by increasing communication effectiveness at individual and systems levels. This involves understanding and addressing communication-related barriers to equity in health care.
Specifically, this course teaches all patient-facing employees how to recognize and address structural obstacles to equitable communication that may contribute to miscommunication.
Our facilitators appreciated the dialogue raising awareness of the challenges related to how bias plays into our relationships." Dr. Amy Windover, Cleveland Clinic
Course + Action
Access to this course includes a one hour, live, group meeting for the course participants, with Dr. Liebel, after the course. This follow-through allows participants to apply what has been learned–in context.
Organizations can work with HCP further, bringing structure and strategy developed at the University of Pennsylvania to take concrete action. These ways of working for equity at individual and systems levels have been proven over decades all around the world. We show how you can use them over time in your organization to act on equity in locally-meaningful, locally-relevant ways.
"Groundbreaking" Approach
Our exclusive BRIDGES approach connects equity to communication in an actionable way to reduce health disparities.  Dr. Liebel has spent years helping some of the world's top health organizations improve communication practices to meet the needs of underserved communities and populations.
Dr. Liebel's holistic approach to addressing patient communication is groundbreaking. It gets those of us in the medical community thinking in terms of bi-directional communications." Dr. Carole Hutchinson, Columbia University
"Foundations of Equitable Interpersonal Communication in Health" offers tools for considering language and cultural aspects of patient interactions--beyond overtly stigmatizing terminology—so employees are better equipped to connect with all patients. It helps align employee and organizational communication strategies and practices with the unique needs of populations that experience health disparities.
For All Employees
This course is for anyone who interacts with patients--medical staff, hospital staff, and community health workers.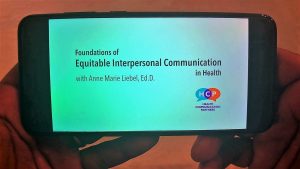 All staff are expected to understand how to talk to patients and colleagues in a way that builds and maintains good relationships. This course helps with interpersonal skills, social impact, and communication. It assists all employees in ensuring individuals receive the highest quality care and services.
World-Class Instructional Design
Backed by expert knowledge and innovative techniques, this hybrid course features direct instruction, reflective activities, and facilitated discussion afterward. Top-tier research is communicated in ways people can relate to and understand.
Dr. Liebel is able to take difficult concepts and not only break them down and make them simpler, but give examples that people who have no background or training in health literacy or communication can relate to." Dr. Marita K. Murrman, Columbia University
The result is an interactive, experiential, and practical learning experience that will engage diverse learners in your workforce.
"Lasting Value"
This course blends the best parts of in-person education with the convenience of on-demand learning.
It is available on the Health Communication Partners course platform (LMS), or can be embedded in your organization's LMS. This course also can be customized especially for your organization.
What we particularly appreciated about her approach was the lasting value Dr. Liebel was able to deliver to our organization–that we have the opportunity to carry forward in our journey on equity in healthcare and health communications." Kelly Kelso, Karius Diagnostics
As part of your organization's Environmental, Social and Governance (ESG) strategy, it may be used in conjuction with human capital, training and education, diversity and inclusion, and human relations initiatives. HCP is a woman-owned small business.