It's Health Communication Partners' 4th anniversary!
You know by now that reflective practice is core to what we do around here. Today, I'm reflecting.
I promised this year that health equity would be 'front and center' for HCP. I wanted to see how we were doing so far.
I admit, I also needed some cheering up. It's an understatement that times have been tough. Tiredness seems to be one of the things that unites us right now. Somehow, it makes me feel better to remember that the struggle for equity – in health, education, income, representation, and more – has been going on for generations. Through this and other pandemics. Through many social and economic crises. People have kept going, one foot in front of the other.
So I thought it would be nice to take time to appreciate some of the different forms that equity-oriented action has taken, that we've had a chance to be a part of here at HCP.
Health Professionals
Health professionals' commitments to health equity manifest in varied ways. Listen in on these four different examples: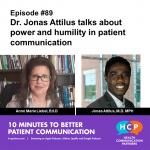 In patient communication, today more than ever, issues of trust and respect, humility and power, are important–and they're difficult to navigate. Physician Dr. Jonas Attilus shares stories about his practice, and talks about how he deals with these equity-related issues in communication with his patients.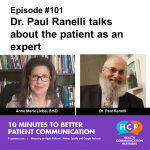 I welcomed back to the show Pharmacist and Social Pharmacy Professor Dr. Paul Ranelli. You'll learn how he encourages his students to see patients as experts, what you can do to improve your next conversation with a pharmacist, and why a deficit perspective on patients is balderdash!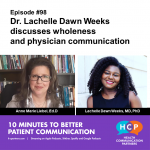 Dr. Lachelle Dawn Weeks, a Fellow at Dana-Farber Cancer Institute, is among the less than 2% of hematologists who are Black women. So over the last couple of years, she has made a decision to show up as her whole self, usually as the only Black woman in the space. Dr. Weeks talks about clinicians showing up whole, seeing a patient as a whole person, and how wholeness makes for better patient communication.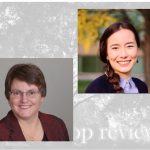 Just as COVID was first hitting the US, I had the pleasure of sitting down for a Skype interview with Julia Rumley and Dr. Karen Bastianelli. Julia is a Pharmacy student, and Karen is a Pharmacy Professor, at University of Minnesota Duluth Campus' College of Pharmacy. They had a story to tell about stress. What they did about it is more than a 'feel good' gesture – though it just may make you feel good.
---
Addressing Implicit Bias Audiobook Bundle 2nd Edition
This newly updated and expanded bundle of audiobook, eBook, and supplementary materials will help you address unconscious bias in your own language as a health professional. 2 hours of practical, culturally and linguistically relevant advice and research-based tools, in an unfussy, conversational format. All sales support this podcast series.
$29.99
---
Government
There has been a fair amount of policy activity aimed at equity this year. Take a look with me at two specific examples at the Federal level: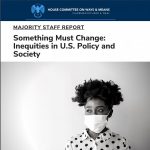 "Health does not exist in a vacuum, and achieving health equity will require addressing the economic and social inequities that have long persisted within our country." Read about Ways and Means Committee Report titled Something Must Change: Inequities in U.S. Policy and Society.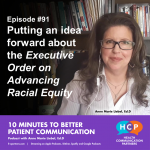 In this episode I take a close look at one part of the Executive Order On Advancing Racial Equity and Support for Underserved Communities Through the Federal Government, and suggest an action that anyone (including federal agencies) can take when it comes to enhacing equity through policy.
Here at HCP
Experience has taught me a few things about working with a commitment to equity. I share some of what I've learned that may be helpful: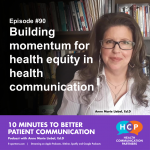 I had the chance to write about how we pursue health equity goals through our podcast series in a recent issue of the Journal of Consumer Health on the Internet. In this episode, I talk about the thinking behind the article.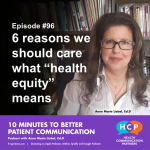 When we talk about health equity, what do we really mean? And do we all mean the same thing? This episode addresses these questions.
And finally, and infographic. I am cautiously optimistic about the ways health equity is being taken up in multiple sectors–in and beyond public health and healthcare. And all of them depend on strong communication. In this graphic, I give a quick listing of some recent activities: