This week, a client was telling me about a talk she'd attended at a recent DEI conference.
There was disappointment, but a sense of resolve in her voice, as she told me about this talk. The speaker had cited statistics on how little impact typical trainings have, when it comes to deep issues like unconscious bias.
My client was aggravated, but not surprised, at the dismal statistics. But she and her organization are determined to do better.
I wonder if at some level, we all know one-shot courses alone don't help us make the change we desire to make.
If you read this site or listen to my podcast, it's because you are a reflective practitioner. You are thinking carefully about how you provide care to each individual person.
You know that telling a patient something is not the same as teaching a patient something. You know how much patient education matters to outcomes, short-term and long term. You want to get through to every patient, not just some of them.
And you don't have time for another course that doesn't help you make the change you want to make.
That's where Equitable Patient Education comes in. This course could change the way you think about your patient education–and it includes follow through so you can act on what you've learned.
"You are sharing things that can make our lives easier. That can make our days better. That can help people be more efficient so they get more done, and the patient knows more!"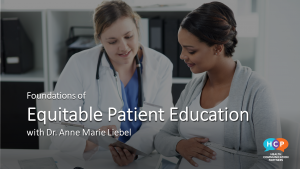 There's plenty of resources out there for improving patient education. So I want to tell you what makes this course different.
Using the flipped classroom model, this course combines video-based and live learning to increase follow-through and application of what has been learned.
Participants watch approximately one hour of self-paced videos. There is a live, post-course group meeting when all participants have finished the course to allow for discussion, questions, and follow-through.
This is a COURSE+ACTION.
"Educators could really benefit from this. Quality improvement folks, too. Anyone trying to change policy or develop infrastructure." -Participant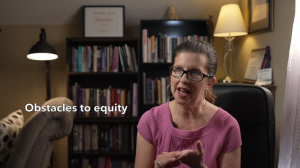 Designed to help meet goals in
Quality Improvement
Patient Education
Patient Experience
Diversity, Equity & Inclusion
"This is so needed! There are tons of tools and great information out there, but it takes a special skillset to translate that knowledge into practice."
What do you learn?
• 6 common educational scenarios and how they can harbor obstacles to equity
• Specific actions you can take to remove barriers to improving educational quality
• How to modify current educational practices to help reach more learners–without taking more time
• Stories of failure and success from professionals across medicine, nursing and public health
• One essential question that could change the way you think about patient education
No matter how much time each day you spend in patient education, no matter how you currently 'do' patient education: in this course, you will find something to make that education more effective. And we get started with the follow-through right away.
Want to know more? Visit our course page, check out our FAQs, and listen to this podcast episode.
Ready to sign up? Fill in the form below.