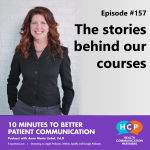 It's the middle of a sunny morning in the Fall. I'm on the phone in the kitchen. Pacing. Back and forth and back and forth in the kitchen, out to the living room, around the living room, back again into the kitchen.
I'm on the phone with my mentor, Dr. Susan Lytle. Susan is famous for her work on Inquiry as Stance, practitioner research, reflective practice. I've called her because I need her help. I've been running Health Communication Partners for years at this point, educating, consulting, and researching. But at the time of this phone call, I was trying to write an online course, and I was stuck.
But let me back up a little.
It's been a thrill since 2017–yes, it's our 6th anniversary–to meet people like you in health care, public health, and health professions, who are knocking themselves out to do everything you can to work on health disparities and improve health Equity. Especially in communication and education, because that's what I know. You know I don't have a medical or public health background. I'm here because of the research which I brought from the education sector.
And part of the energy of Health Communication Partners is that crossing of the fields. I come with a critical social perspective on language and learning including the New Literacy Studies, reflective practice, professional learning across the career span, all from the University of Pennsylvania.
Another part of the energy of Health Communication Partners is you and me, and how we're learning from each other. Your professional practice, the context of those practices, means so much to how you do patient education, how you do communication. That's why I depend on you to tell me what it's like! And you have. Different people, different scenarios, your thoughts and questions, your stories. Again and again, people have shared them with me over the years. And I listen hard to you and draw out what's common across the questions and stories and problems and noticings.
Health Equity is the goal. That's what this show and all my work is about: bringing the studies and approaches that I come with. What it means to make equity core and central to communication, core and central to education. I've been listening to try to understand enough of what's happening in front of you to be able to be helpful.
One of the things that happened to all of us during covid was that learning went entirely online and on demand. So I spent a lot of covid-time turning this over in my head: can I do a video learning for what I do here? And at first I was like, "No. It can't be done. I can't write a one-size-fits-all video course about how not to have a one-size-fits-all approach to communication or education." It's my reputation at stake, right? It would be disaster. But then I thought, well I can't do nothing.
Complicating it more is people telling me, "Everything in training is getting shorter. We're looking at classes of 60 Minutes, 90 minutes, 100 minutes. Preferably broken into small bits."
And this is tough because the kind of work I do–and the kind of work I'm helping you do, this reflective practice–is personal. And it's context dependent. And it's dialogic. And it takes time. And none of this lends itself well to short video based courses. So I was feeling very pushed and pulled. Can it be done? How?
And we're already, as you know, fighting an uphill battle with these topics–communication and patient education–because they're low status, they're low priority, they're "soft." So what was and is still working against me, and all of us who care about this, is not just the current environment around patient education and communication, but around professional learning, and around what it should look like and sound like.
So all of this is going through my head. That's why I call my mentor. I'm pacing through the kitchen and living room, telling her all this. She agrees: it's a mess. This is complicated. She also understands the alternative is to do nothing. She tells me I've done the work to make a good course. But it's what she says next that really sets everything else in motion. She says, "After people take the course you've written on the videos, you have to meet with them. They have to meet with you."
And when she says this, I instantly know she's right, and that is exactly what has to happen. I get right to work building the Courses + Action design. On-Demand videos, followed by a live 1 hour group meeting, for question and answer, discussion, and action. This will be my hybrid course.
And the curriculum and instructional design was the hardest part, because I'm trying to do justice to your practice, and the complexity of your communication and education situations. Drawing on what you've taught me, to choose which topics and which questions to include in the courses. What gets foregrounded, you know, what gets background, and how to structure it.
So there's short lessons, grouped together into modules that you can kind of watch on your own. The end of each module, there's Taking Action. And that's where I really try to get across in these activities, these prompts, what's powerful and different specific about considering patient education and communication critically, with equity lenses, using reflective practice.
Now the making of the videos is the perfectionist in me totally being on overdrive. How many times I re-did what I was going to say, and then how nervous I would get before shooting. How many takes it took…and that was just the videos.
The live sessions have been amazing. I get to meet you. And people are letting me into their Zone, and I love it. It's slightly terrifying for me to kind of step through the screen into your world. But you are awesome, and we get to work. We turn things over. We look at things up close, and turn it this way and that, until we find something workable. We take action. And I take this with enormous seriousness. You're letting me in these priceless front row seats into your practice of patient education, of communication.
And what has happened through the live sessions is I've gained even more respect for you, even more empathy for you, because this is the kind of work you do with your patients and clients all the time. It's hard. I'm getting a little better at it.
I am proud of what I have made: our two courses, Foundations of Equitable Patient Education and Equitable Communication. The design is good, the material is good, the activities are good, yes. But I'm most proud because I believe it will be helpful to you in the work you do.
This is meaningful work to me because it's about the evolving status of communication and education in the health sector. And my evolving relationship with you. I get to know you better. And we're continuing to teach and learn together, co-create, build bridges, and strengthen our professionalism and our sense of what we're doing here and why.
To learn more about these courses visit HealthCommunicationPartners.com or find me on Linked. This has been "10 Minutes to Better Patient Communication" from Health Communication Partners and it's our sixth anniversary! I'm Dr. Anne Marie Liebel. Show music and audio engineering by Joe Liebel. Additional music by Alexis Rounds.