Health communication, patient education, health literacy. You care about these; that's why you're here.
You also like reaching all patients. And saving time.
No matter what you think of Top 10 lists, they're effective and efficient.
So here's your chance to combine all of these: A Top 10 list of articles about health communication, health literacy, and patient education. And more, all in one place! This is exclusive, original, research-based content you just won't find anywhere else.
In reverse order, here are the Top 10 most-read articles in 2018 from the Health Communication Partners' website.
Smartphones are incredibly demanding, in terms of the reading, writing, and numeracy skills we need in order to operate them! In this article, you'll learn what cell phones can show us about literacy, and two things you can do to help your patients, regardless of their health literacy levels.
I'm thrilled this article made the list. Mentoring is close to my heart. I don't often get to write about it here on the site. So…I tried to cram too much into this one piece. But you liked it anyhow.
Mentoring in and beyond medical education has been buzzing lately, and I'm thrilled. But mentoring isn't something to enter into lightly. Mentoring interactions can be intense, memorable, helpful, and harmful. In this article I share some ways of thinking about mentoring that may be helpful to you–whether you are a mentor, have a mentor, or want a mentor.
Two infographics made the Top Ten list. (Hmm maybe that's a sign I should make more?) This was one of my first, and I'm glad people enjoyed it.
Handling conflict well is an important part of communication (and an essential ingredient in leadership). So after writing an article of 25 questions, I turned them into an infographic. Save this for those moments when things get a little heated.  Maybe with a patient, maybe a coworker, maybe a family member…you get the idea.  These phrases and questions will help even the most tongue-tied of us speak diplomatically.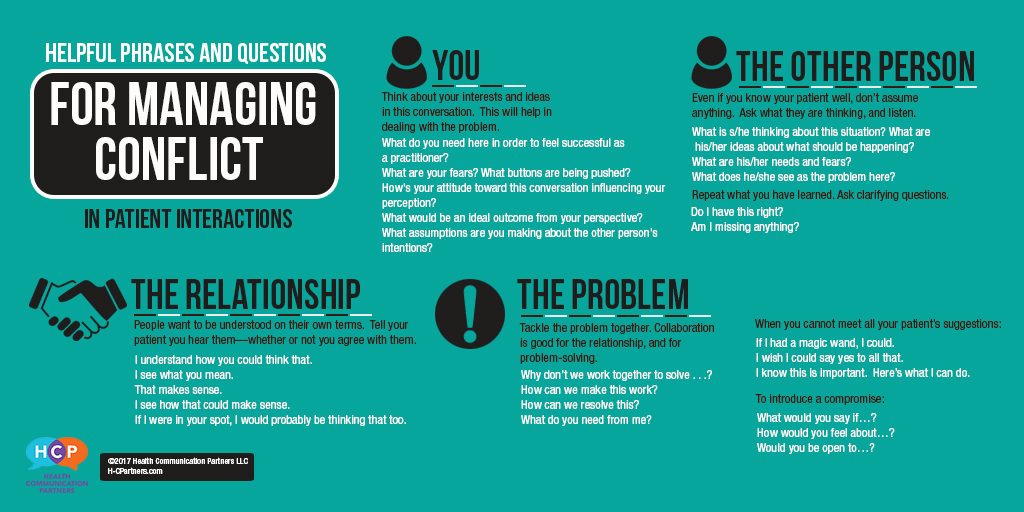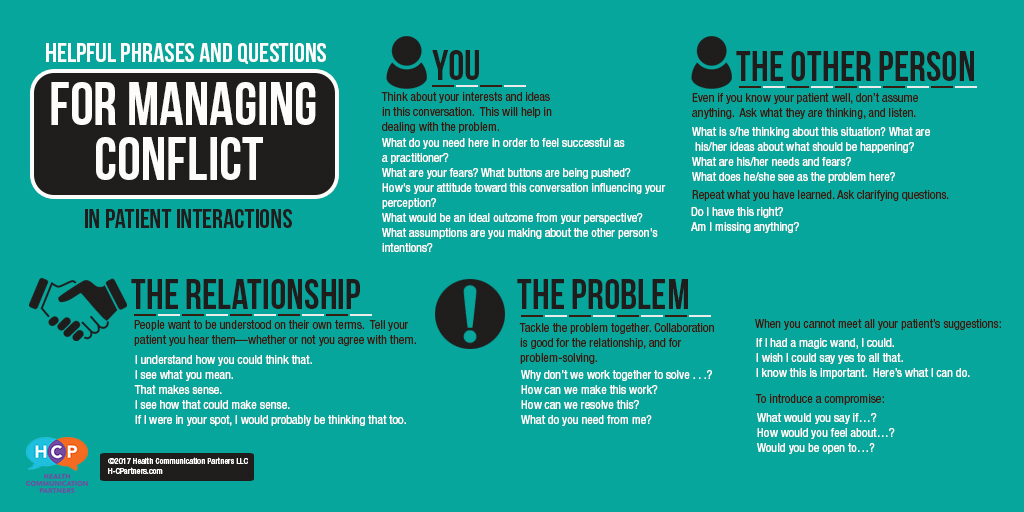 This was one of the most fun articles for me to write. It gets into serious linguistic territory in a kinda silly way.
This is for you, if you've ever interacted with a patient and asked yourself the question: How do I talk to you?
Using a conversation I had with a medical educator, in this article I take a look at the term "pee-pee."  It's to help you start to become aware of your own language—and your patients'.
Here's that other infographic! This one had a lively life on social media, because #healthliteracy is important (and still trending).

And maybe not surprisingly, next on the Top Ten list is the article it came from…
Patient encounters are brief and busy, and you may not have time to create solutions on the spot if you learn your patient struggles with literacy.
Here are 11 concrete, specific steps that providers can take – to do something about improving patients' health literacy. Right now.
I'm very happy this made the list, as I've started to write more frequently about cross-cultural communication.
Cross-cultural communication is one of the more critical communication issues in healthcare today. Because complex health issues are also complex communication issues.
Here are some common pitfalls when it comes to communicating across difference – and what you can do to avoid them
This was written in 2017 but it's going strong – and it totally jumped toward the top of the most-read list just these last few months of 2018.
As you know, I've been an educator for more than 20 years, and in this article I give you 5 steps you can take to improve your existing patient education starting right now.
If you like this, here's an audiobook bundle with loads of support materials and extras!
This has been one of HCP's all-time most downloaded podcasts, so I'm not surprised it's near the top of this list.
"Reflective practice" has a bad reputation, and I'm sorry to say it's not undeserved. So if you are darn close to hating reflective practice, this one's for you. 12 prompts that won't make you groan. And they might change the way you think about your professional life.
This was a surprise! About 2 months ago this article started roaring through the list, and here it is at the top spot to finish out the year.
Its popularity might have something to do with the greater awareness of microaggressions. Though they've been studied for decades and are well known in some legal and educational circles, there seems to be more widespread interest. And that's a great thing.
In this article, I discuss how microaggressions can help you address hidden or unintentional bias in your language. I then give three 'lessons learned' and how you can apply them to your practice.