Health professions faculty are being told to prepare hybrid or online course offerings for next year.
As you prepare for next semester, whatever it holds, HCP has world-class digital educational materials.  
Our latest digital download: Addressing Implicit Bias Audiobook Bundle, 2nd Edition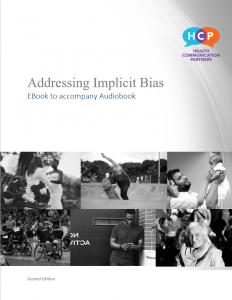 Perfect for hybrid, face-to-face or remote learning
Use as one lesson or as separate mini-lessons
Some of our most popular podcast episodes conveniently bundled together with teaching activities, discussion questions and hyperlinked transcripts
All based in reflective practice
Students keep materials for future use
In this newly updated and expanded audiobook bundle, students will learn how (and why) to examine language and its often-hidden connections to biases. This bundle of resources will help students to address implicit bias in their own language, and take steps toward addressing bias at organizational levels.
CLASS SETS and INSTUTITIONAL COPIES for libraries are available. Interested? Just fill out the form below.
STUDENTS GET:
2 hour audiobook
55 page eBook with linked research references
Addressing Implicit Bias PowerPoint Presentation
References
User's guide that explains what's in the Bundle and how to get the most out of it
Interested? Just fill out the form below.
Class Sets and Institutional copies also come with a FREE INSTRUCTORS GUIDE.
YOU GET:
Teaching activities and suggestions
Course objectives
Pre/post test
Questions for each chapter
Updated resources
Relevant Public Health standards
Interested in a discounted Class Set or Institutional copy? Just fill out the form below. (Individual copies available here.)
Effective Patient Education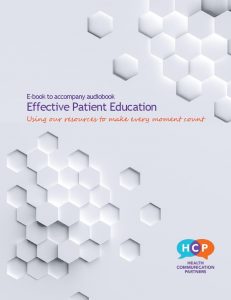 Effective Patient Education explores educational principles that reach all learners, so your students can increase the effectiveness of their patient education. Use as a single lesson or several mini-lessons, ideal for hybrid or remote learning.
Topics include:
What culturally and linguistically appropriate patient education can look like
Educational principles that reach all learners
How to view everyday patient education differently
Help your students be more effective in their patient education–so they get more done, and the patient knows more. 
Purchase Effective Patient Education Audiobook Bundle
Digital bundles
Perfect for hybrid, face-to-face or remote learning
Use as one lesson or as separate mini-lessons
Some of our most popular podcast episodes conveniently bundled together with teaching activities, discussion questions, and hyperlinked transcripts
Easy to access and shareable
Each bundle includes
An .mp3 file that can be posted or shared
A .pdf eBook with linked research references
Shareable supplemental learning materials – guides, activities, checklists and more