Welcome to the Patient Education Hub from Health Communication Partners
Our top patient education resources
For all educators.
If you educate patients, clinicians, or both, these patient education resources are for you. No matter how long you've been an educator, no matter where your confidence level is–from newbie to Beyoncé–we've got you covered.
For all patients.
These patient education resources are culturally and linguistically appropriate, and designed to reach all kinds of learners. They are grounded in decades of world-class research, alongside a commitment to promoting health equity and reducing health disparities.
For all patient education topics.
These resources are based on patient education principles that apply across topics. Whether you're educating patients about diabetes or wound care, vaccines or opioids, these educational principles apply.
Audiobook Bundle
Patient education is a cornerstone of care. Refresh your skills, and learn new approaches, in this collection of easy-to-use materials. 80 minute audiobook, 45 page eBook, and practical hints, checklists, and charts to use today.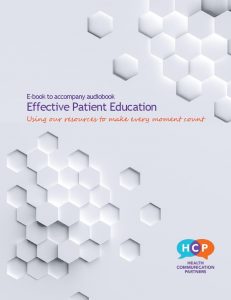 Top Articles
Top Podcasts
Infographics
Sign up for our newsletter
Patient education support right to your inbox. No spamming, no deficit perspective.