It's the 5th anniversary of the Health Communication Partners website, and we are celebrating with two big announcements!
1. We have a new, distraction-free course platform.
2. We're launching our platform with a new course, "Foundations of Equitable Interpersonal Communication in Health."
Learn more in this video:
"Foundations of Equitable Interpersonal Communication in Health" is a new, on-demand course for all patient-facing employees. It is about improving health care quality, patient safety, patient engagement, and the experiences individuals have within the health care system.
Specifically, this course teaches all patient-facing employees how to recognize and bridge cultural differences that may contribute to miscommunication.
"Groundbreaking" Approach
Our exclusive BRIDGES approach connects equity to communication in an actionable way to reduce health disparities. I have spent years helping some of the world's top health organizations improve communication practices to meet the needs of underserved communities and populations.
Dr. Liebel's holistic approach to addressing patient communication is groundbreaking. It gets those of us in the medical community thinking in terms of bi-directional communications." Dr. Carole Hutchinson, Columbia University
"Foundations of Equitable Interpersonal Communication in Health" offers tools for considering language and cultural aspects of patient interactions–beyond overtly stigmatizing terminology—so employees are better equipped to connect with all patients. It helps align employee and organizational communication strategies and practices with the unique needs of populations that experience health disparities.
For All Employees
This course is for anyone who interacts with patients–medical staff, hospital staff, and community health workers.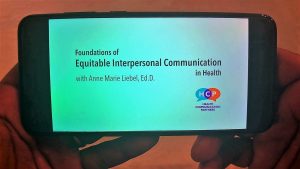 All staff are expected to understand how to talk to patients and colleagues in a way that builds and maintains good relationships. This course helps with interpersonal skills, social impact, and communication. It assists all employees in ensuring individuals receive the highest quality care and services.
 I use a holistic approach to professional learning along with world-class instructional design.
Top-tier research is communicated in ways people can relate to and understand.
Dr. Liebel is able to take difficult concepts and not only break them down and make them simpler, but give examples that people who have no background or training in health literacy or communication can relate to." Dr. Marita K. Murrman, Columbia University
"Lasting Value"
This course blends the best parts of in-person education with the convenience of on-demand learning.
It is available on Health Communication Partners' new course platform (LMS), providing a distraction-free, elegant course experience on any device. It can also be embedded in your organization's LMS, and further customized especially for your organization.
What we particularly appreciated about her approach was the lasting value Dr. Liebel was able to deliver to our organization–that we have the opportunity to carry forward in our journey on equity in healthcare and health communications." Kelly Kelso, Karius Diagnostics
As part of your organization's Environmental, Social and Governance (ESG) strategy, it can help improve your ESG scores as part of training and education, diversity and inclusion, and human relations initiatives. HCP is a woman-owned small business.
For more information, including pricing, fill out the form below.