Current events have many of us thinking about laws and policies. Laws and policies are both potent social structures.
So this month's In Focus is about thinking–and acting–structurally on health inequalities.
I invite you to acknowledge some of the often-invisible structures in your organization.
Laws are structures. Policies are structures.
Professional groups are structures. Informal social groups are structures.
Conversations are structures. Written texts are structures.
I challenge you to view these structures not as given or natural, but as the result of human action, or inaction, and as politically and historically situated.
If your organization could use some support thinking and acting structurally about health equity, watch this space. We've got something coming soon that you won't want to miss.
Here's six ways to take structural-level action, right now:

The New York City Department of Health has a language use guide on its site. I preview it, and tell you 5 reasons why you should check it out.
---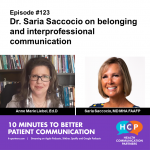 Dr. Saccocio shares some practical communication strategies she uses to encourage a sense of belonging in organizations.
---
We're trying to collaborate. We're needing to communicate. We're having to coordinate within incredibly complex, overlapping systems, under unbelievable circumstances.
---
Structural issues can bog down successful interprofessional communication. Here's how to deal with them.
---
If we want to get work done on big problems, it means collaborating. But collaboration itself takes some work.
---
And there's an infographic! Click on it below for the post and full-size render.