When it comes to health equity, professionals across the health sector are stopping and asking hard questions of ourselves.
How are we as practitioners contributing to health inequities, despite our best intentions?
How do our institutions unwittingly present barriers to equitable care?
Health inequities don't just happen, they're not inevitable. They're created and maintained, often unintentionally, by people like us and the systems we create and participate in.
That means part of advancing health equity is an inside job.
It's one thing to look at what other people are doing. Looking internally at what we and our organizations are doing takes another kind of bravery.
There's increased awareness that the status quo in health and healthcare has been cruelly inadequate for many people. Yet powerful, historic forces can help maintain the status quo in terms of what gets talked about, written about, taught, or funded in our institutions. And what doesn't. I'm grateful to the many health professionals who have spoken frankly with me about these and other issues, issues they tell me that are sometimes wrapped in silence.
By questioning the status quo, the ways of working we've inherited, the arrangements we've come to take for granted, we can begin to see places where we're not living up to our own standards. See the subtle ways that well-meaning health care workers can provide unequal treatment without noticing. Notice the policies and practices in an organization that unintentionally privilege some social groups.
It is this kind of critical reflection and action that Health Communication Partners was built on, and built for.
This kind of reflective action is crucial, but not easy. It deserves support.
We offer that support in the form of a bundle of resources designed to help individuals and groups address health inequities through more inclusive communication.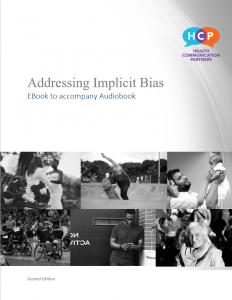 2 hour audiobook
55 page eBook with linked research references
Addressing Implicit Bias PowerPoint Presentation
Research References
User's guide that explains what's in the Bundle and how to use it
Newly Updated and Expanded
Based in decades of the best studies in the world on connections between language, culture, and power, these materials share a commitment to reducing health disparities. And all purchases support our podcast series, "10 Minutes to Better Patient Communication."
For individuals
Addressing Implicit Bias 2nd Edition helps you examine language and its often-hidden connections to biases. This bundle of resources will help you to address implicit bias in your own language, and take steps toward addressing bias in your organization. You get practical, culturally and linguistically relevant advice and research-based tools, in an unfussy, conversational format.
You'll learn:
The subtle ways that bias creeps into everyday language and ordinary policies
How bias contributes to health disparities
Concrete strategies to address bias in your everyday practice
Steps to take toward addressing bias in your organization.
This is not about adding one more thing to your already crowded day. It's about improving what are you already saying and doing, with world-class research.
For insitutions
Recognizing people are in different places in their equity journeys, this bundle has something for everyone. Whether you're in the early stages of your equity work and struggling to figure out what to do, or you've been on the path for years and are looking for new resources, this bundle is designed to support you in helping learners address health inequities through more inclusive communication. There are also discounted Class Sets and Institutional copies available.
Class Sets and Institutional copies also come with a FREE Instructors Guide that includes:
Teaching activities and suggestions
Course objectives
Pre/post test
Reflective practice questions for each chapter
Relevant Public Health standards