Current events are shining a light on historic disparities.
It's well documented that COVID-19 disproportionately impacts marginalized populations. This medical-societal emergency is a time when bias surfaces right in front of our faces.
People are tired of inequalities and their effects.
This is time for action.
Introducing
Newly Updated and Expanded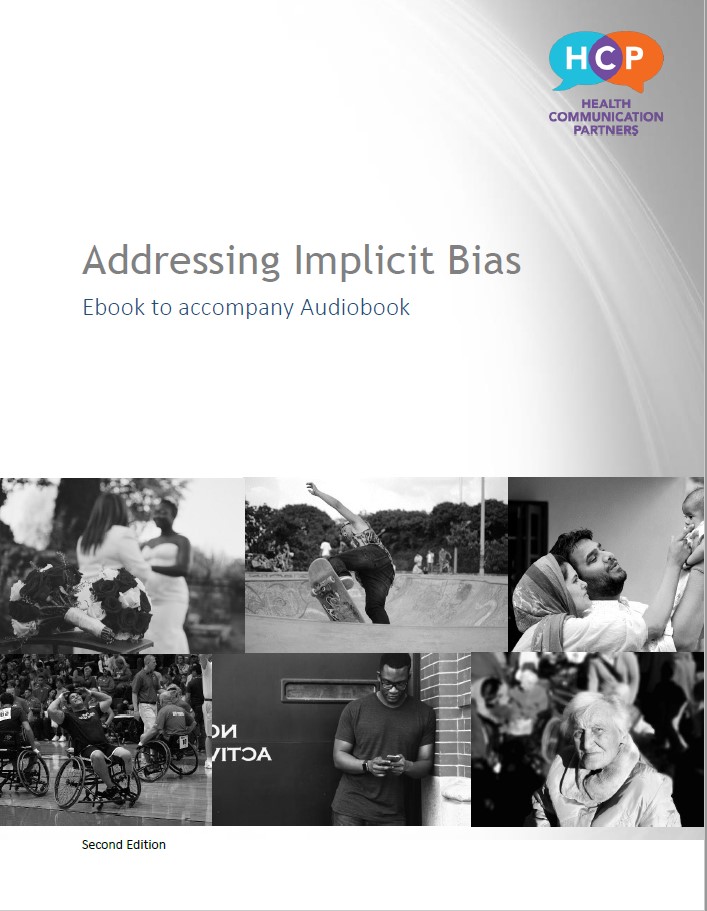 An audiobook bundle that goes beyond the challenges of recognizing bias.
It shows what you can do about it.
Today, perhaps more than ever, professionals across the health sector are stopping and asking hard questions of ourselves. About what we do, what we take for granted, and how we can do better– as individuals and organizations. People want to turn awareness into action.
Because there's nothing natural about health disparities.
As you know, Americans experience variable access to health care, based on race, ethnicity, socioeconomic status, age, sex, disability status, sexual orientation, gender identity, and residential location. (the Agency for Healthcare Research and Quality 2016 National Healthcare Quality and Disparities Report)
Health disparities are due to many factors that are man-made. One of them is implicit bias.
Bias, in particular, needs to be dealt with carefully, and with known methods– systemic approaches that also involve individuals.
Language is a durable structure–from everyday conversations, to policies and laws.
Bias is produced, reproduced, and transmitted through language, and this often happens without our notice. There are subtle ways our everyday language can unintentionally disadvantage certain social or cultural groups. The language in ordinary institutional policies and practices can also unwittingly reflect bias.
But there are research-based steps you can take, right now.
In this newly updated and expanded audiobook bundle, you'll learn:
The subtle ways that bias creeps into everyday language and ordinary policies
How bias contributes to health disparities
Concrete strategies to address bias in your everyday practice
Steps to take toward addressing bias in your organization.
Addressing Implicit Bias 2nd Edition helps you examine language and its often-hidden connections to biases. This bundle of resources will help you to address implicit bias in your own language, and take steps toward addressing bias in your organization. Available for immediate download.
You get:
2 hour audiobook
55 page eBook with linked research references
Addressing Implicit Bias PowerPoint Presentation
References
User's guide that explains what's in the Bundle and how to use it
The flexible format of these digital resources make them user-friendly. You can learn on your own schedule.
There are also discounted Class Sets and Institutional copies available. Class Sets and Institutional copies also come with an Instructors Guide that includes:
Teaching activities and suggestions
Course objectives
Pre/post test
Questions for each chapter
Relevant Public Health standards
Contact us for Discounted pricing on Class Sets and Institutional copies.
This is not about adding one more thing to your already crowded day. It's about improving what are you already saying and doing, with world-class research.
Based in decades of the best studies in the world on connections between language, culture, and power, these materials share a commitment to reducing health disparities.
This bundle is for:
health care workers
public health professionals
students
community health workers
researchers
program coordinators
medical educators
You get practical, culturally and linguistically relevant advice and research-based tools, in an unfussy, conversational format.
These materials are based on educational principles that reach all learners, and are culturally and linguistically appropriate.
---
Addressing Implicit Bias Audiobook Bundle 2nd Edition
This newly updated and expanded bundle of audiobook, eBook, and supplementary materials will help you address unconscious bias in your own language as a health professional. 2 hours of practical, culturally and linguistically relevant advice and research-based tools, in an unfussy, conversational format. All sales support this podcast series.
$29.99
---