However you define health equity, we all have a stake in it.
There are encouraging signs of new political and institutional will to dismantle institutionalized inequalities. People are asking what they can do as individuals.
Here are 3 ways you can support health equity–you, right now.
As a bonus, you'll also be supporting our independent, equity-oriented podcast series, "10 Minutes to Better Patient Communication."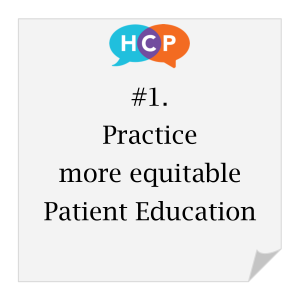 You know how much patient education matters to outcomes. It's important to educate equitably—every patient, not just some patients.
The Effective Patient Education Audiobook Bundle could change the way you think about your patient education. You get an 80 minute audiobook, 45 page eBook, and practical hints, checklists, and charts to use today.
You'll see what culturally and linguistically appropriate patient education can look like
You'll improve what you're already doing to increase your effectiveness
You'll get educational principles that reach all learners
You'll view your own patient education differently
Click here for Effective Patient Education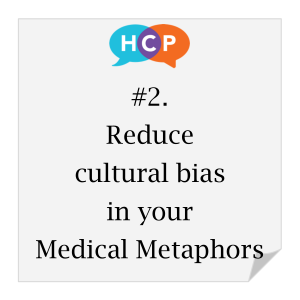 Metaphors are powerful. The problem is, sometimes there can be cultural mismatches, or they can give patients the wrong impression. And you usually can't tell if this is happening.
Improving Your Medical Metaphors is a 1 hour, on-demand workshop that goes beyond the benefits and challenges of using metaphors. It shows what you can do about them.
You'll differentiate between the two parts of a metaphor
You'll identify the cognitive and affective dimensions of metaphor
You'll identify and address cultural mismatches
You'll learn to evaluate your metaphor in use
Click here for Improving your Medical Metaphors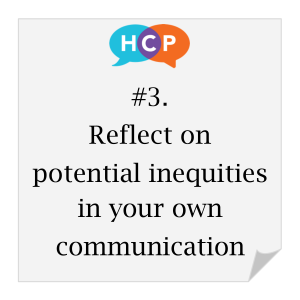 There are subtle ways our everyday language can unintentionally disadvantage certain social or cultural groups.
Addressing Implicit Bias Audiobook Bundle 2nd Edition is a newly updated and expanded audiobook bundle that gives you research-based actions you can take right now. It includes 2 hours of audio, a 60 page eBook, Power Point Presentation, and hyperlinked research and References list. Discounted Class sets and Institutional Copies are available (w/free Instructors Guide).
You'll see the subtle ways that bias creeps into everyday language and ordinary policies
You'll explore how bias contributes to health disparities
You'll gain concrete strategies to address bias in your everyday practice
You'll learn steps to take toward addressing bias in your organization
Click here for Addressing Implicit Bias 2nd Edition
And remember, all purchases support our free, equity-oriented podcast series, "10 Minutes to Better Patient Communication."