Today I open a health literacy time capsule, and talk about what's changed. 6 years ago I gave you 11 health literacy tips. Which are outdated? Which stand the test of time? What do I wish I'd said? Find out!
It's health literacy month and our 6th anniversary as a podcast series. So I'm combining the two by taking a look at one of our earliest health literacy episodes, from 6 years ago. It's a kind of health literacy time capsule! And there are many changes I would make today. So here are some updated tips on how you can support health literacy.
Hi everybody, this is "10 minutes to better patient communication" from Health Communication Partners. I'm Dr. Anne Marie Liebel. Organizations across the health sector are responsible for health equity goals and standards. Our course Equitable Patient Education helps you meet your health equity goals with whatever patient population you are focused on. If you're responsible for quality improvement, patient experience, or patient education, you'll like this because it's quick, it's convenient, it's accessible, and the pricing is great. It ticks all the boxes. And it's good! For more information visit health communication partners or find me on linked.
First, of all I'm happy that health literacy is still going strong, and so are we, the people who care about it. Health literacy is still being talked about a lot, and I am here for it. I think it's made it into more of a wider discourse in a few ways. Just this week, in two different conversations I was in, health literacy was brought up multiple times (and not by me). And if you are new to this show, we are an education and communication consultancy. We're equity-focused. I'm a former literacy professor and I have crossed over into the health sector gradually over the last decade. And these episodes are questions that health professionals have raised, that I bring some research from my specialty and also my learning from this kind of multisector collaborative work that I do.
The show is still going strong too! 6 years in, and I'm really pleased and proud of that. Recently we had another one of those days we had more than a thousand downloads in a day, which is a big deal for a show that's really niche like this. So for all of these reasons, and also to kind of see where we've collectively been and where things are at right now, I'm looking at this episode from 6 years ago as a moment in time.
I also want to give a shout out to the health literacy community, specifically folks at the IHA Health Literacy Solutions. And if you care about health literacy, consider becoming a member. This isn't spon con! I'm a member, I like them, I like you, I want you to get together. They are at healthliteracysolutions.org. Okay this episode from 2017, October of 2017, is a list of 11 tips. So we're gonna look at these: what I said then, and what I would tell you now.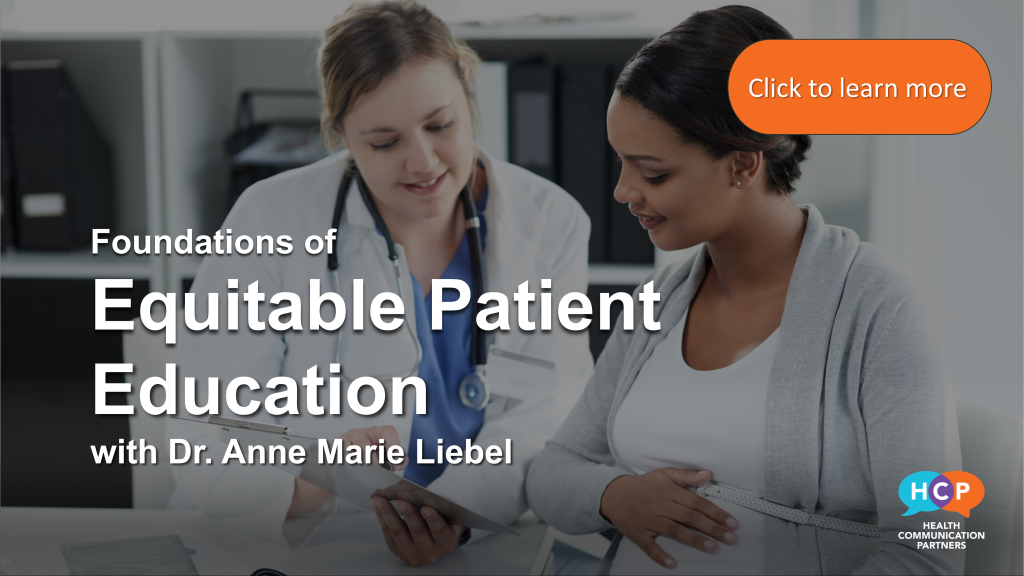 Now #1 and #2 are kinda similar. And I hope that we can say we don't need these anymore. Number one was "don't panic." Because the story behind this episode was a lengthy conversation I had with a nurse manager about her response to a patient screening about health literacy, that really threw her off. So 'don't panic' was the first thing I said. I was kind of talking to the health professionals who are looking at the results of their patient screenings, and kind of not being sure what to do.
#2 was "don't let a label stick to your patient," which is the same thing. It was if your patient struggles with health literacy. or if your patient has a screen that shows they're illiterate, again don't panic and don't let this stick to your patient. But hopefully, health literacy screenings are waning. Because I think we've collectively figured out that they weren't doing a lot of good, and they were doing a lot of damage in terms of potentially shaming patients, and getting in the way of our relationship. So hopefully, numbers 1 and 2 from this list from 6 years ago we don't need anymore. Instead, we're kind of sticking with plain language as the default approach–and overall, more helpful.
All right, numbers 3, 4, and 5. Number three: "start with what your patient brings to the table." I'm going to stand by this one. What I said 6 years ago was, if your patient comes to you with any information items or written material, talking about these is a good start. These are going to be items with which they're already familiar so the patient may be less nervous about their meaning or their significance. I'll stand by that one.
#4: "figure out where literacy is absolutely necessary." Now 6 years ago, I said get clear for your sake and your patient's sake on what parts of their visit require them to read or write. And I was talking about this is because I was really focused on how we can put kind of an undue literacy burden on people in healthcare settings. 6 years ago I said, ask yourself what reading and writing activities could be delayed? What can patients fill out or read at home with a friend? What could be done ahead of time? I think people are pretty much on the ball with this. What reading and writing activities could be eliminated altogether? Also not a bad question. I'll stand by that.
#5 I said, "have information available in multiple modes." And I'll stick by this one too. Because in literacy terms, modes are ways of communicating meaning. Videos combine images and sound, therefore they are multimodal. So yeah don't forget, give people information in more than one mode. So looking back number three, four, and five, I'm pretty much going to stay with the way they were.
Now number 6, 7, and 8 are interesting because they're all kind of falling in the digital health realm. And I wonder if we all in, the past six years, kind of got more sophisticated about this. So let me tell you what I said then. Number six was "have a list of websites you trust." Number seven, "have a list of apps that you can recommend." And number eight was, "collect other multimedia recommendations." And I do feel like we've in general gotten more sophisticated about this. I wonder if you feel that way. Because with the rise of digital health, everyone going exclusively online during the pandemic, it almost seems like these kinds of multimodal digital health resources, we can kind of take them for granted. So maybe six, seven, and eight go without saying. We'll just say maybe more of a reminder. Don't forget to recommend these things to your patients.
#9, somewhat similar, but I think it bears repeating. Number 9. what I said 6 years ago was "know your digital communication." And I said be clear with patients what you use email for and  frequently remind patients how you and your practice use social media and text messaging. And consider the patient's side. Can patients email you? Can they text your practice? What might they expect to see on your social media accounts? Now from my perspective, advice like that is part of a bigger conversation now, than it was 6 years ago. And the bigger conversation I'm hearing is more around patient data, patients' rights to their own data with the electronic medical records. So this isn't just about how you use digital media but how patients can as well.
# 10 is kind of the opposite of #9. Number 10's advice, 6 years ago, was about audio recording and patients audio recording their visits with their practitioners. 6 years ago, this was a hot topic. And as far as I know it's kind of dropped off the radar. I don't know if you're hearing about it anymore. So it's kind of the opposite of number nine. Number nine wasn't a big deal and now it is. #10 was a big deal, and I'm not sure that it is anymore. So I'm just going to step away from that topic.
# 11 I would keep. Number 11, 6 years ago, I said "take a look at your written materials." How long has it been since you looked at the materials you give to patients? Make sure that written materials are accompanied by images and broken up into small paragraphs, because everyone finds this more manageable and memorable. And I also added how you physically handle and talk about written materials also matters to the meaning that people take from them. If you handle a document with seriousness, people will notice. If you highlight or underline important passages, it can be helpful. Talk about them, point to them when you're there with your patient. So number 11 I'm standing by.
Now what didn't I say that I wish I had? In health literacy, I think it's easy to see patients as consuming the materials we give them. And consuming is kind of literacy term, but it's that kind of the receiver, the taking in. And they're the consumer of talk, of our texts, of our materials. But what I want you to remember is that patients are also producers. They are sophisticated thinkers. They are sophisticated users of language. They're also making–another literacy term–complex texts of their own.
Think about social media. Think about at home conversations around the dinner table. People are using their power, and their voices, and their experiences, to create new information. To create new knowledge. To further their knowledge. To advocate for themselves. To link together with others who care about similar health topics. So remember, all of your patients are active participants in health conversations that extend beyond traditional health settings. Keep this in mind when you're talking with them. This has been 10 Minutes to Better Patient Communication from Health Communication Partners, Audio engineering and music by Joe Liebel. Additional music by Alexis rounds.