Hello friends,
I'm proud to offer a free live webinar on communication in multi-sector collaborations, in conjunction with Columbia University's Mailman School of Public Health, and the Region 2 Public Health Training Center.
"Building BRIDGES: Understanding our Position in Multi-Sector Communication."
Tuesday, June 4, 2019
12pm EST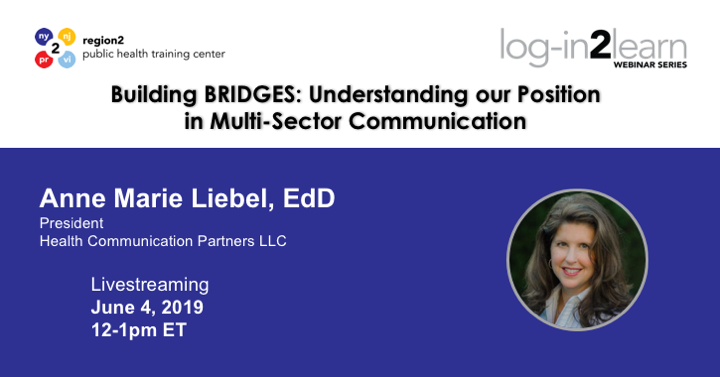 This webinar is first in a three-part series designed to help you convey messages that resonate with audiences outside your usual professional group. Using the approach of building BRIDGES, this first webinar will focus on you as a communicator.
I've written before about the fact that what makes for good communication in our usual workplace groups does not always translate well when we're communicating with outside audiences.
That's in part because there are communication elements that we can tend to take for granted when we're on familiar turf. But those same elements can bog down multi-sector communication. This is where building BRIDGES can be helpful.
I'll tell you about the building BRIDGES approach. You'll see how it helps you to examine your existing communication–in the professional domain, and in multi-sector communication specifically.
Through an academic literacies lens, we'll take a close look at some elements of professional communication that we tend to take for granted:
First, we'll consider our own assumptions about multi-sector communication, and about ourselves as communicators.
Then we'll see how our disciplines and workplaces tend to have their own terminology, jargon, or language, which can become invisible to us over time.
Lastly, we'll talk about identifying and articulating our core, foundational values, as well as considering who and what might help us as we build the next bridge.
I'll give plenty of time in the end for questions, or you can write me ahead of time.
I'm grateful to Columbia's Mailman School of Public Health and the Region 2 Public Health Training Center for making this possible. I'm honored to collaborate with them, and with you!
See you live, on Tuesday, June 4th.
---
For more information, please email region2phtc@gmail.com
This project is supported by the Health Resources and Services Administration (HRSA) of the U.S. Department of Health and Human Services (HHS) under grant number UB6HP31685, Regional Public Health Training Center Program for $3,069,880.00. This information or content and conclusions are those of the author and should not be construed as the official position or policy of, nor should any endorsements be inferred by HRSA, HHS or the U.S. Government