Here on the site and in the podcast series, I hope I've created something tangible that can help you connect with all patients, and have the impact you got into health care to have.
I would be delighted to provide further support through a workshop, webinar, or class.
Topics
Implicit bias
Health literacy
Patient education
Multi-sector communication
Individual & group patient education methods
…and all topics on this site!
These are not talks-in-a-box. My approach to workshops, talks, and classes involves co-constructing the topic with those who have asked me to speak. These events are customized for your organization and your audience.
I try to make it easy for you to see how I work. I've written about how I collaborate. I've also recently launched Building BRIDGES, which is my overall approach to health communication.
As much as doing these workshops and events means to me, what's more important is what it means to those I work with. Hear from them: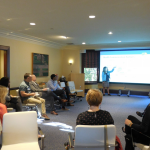 From Organizers
Numerous folks have asked to meet with you, and I'm still getting calls.  I set up visits for various visiting professors and typically struggle to ensure meeting slots are filled – so this is refreshing to have folks asking to attend."

"We have almost 200 registrants for this webinar so far—double what we had last year!"

"Your talk was our most attended of the year. When we see the spike in the metrics, we all know that's Anne Marie's talk." 
From Attendees
Awesome job and interesting information- have her back!"

"I came away with a different perspective on the term health literacy. It is more than just how health information is written. It is more relational and interpersonal with how people communicate with one another."

"I enjoyed hearing that we should work with our patients from their point of understanding, sometimes we forget that the information/terms we give to our patients is not always familiar to them."

These can be One-time or multi-part events. They can be onsite or online. My LMS or yours.
Professionals I work with
Care Providers
Public Health Professionals
Digital Health Professionals
Patient Educators
Health Administrators
Community Health Workers
Medical Educators
Undergraduate and Graduate Health Professions Students
Marketing Professionals
I would be happy to help your organization address issues of communication, health literacy, and education. My process remains the same, and the results are customized experiences, tailored for your organization, grounded in decades of the world's best research. Just fill out the form below.