On September 10, I'm proud to offer you another FREE, LIVE webinar on communication in multi-sector collaborations, thanks to Columbia University's Mailman School of Public Health, and the Region 2 Public Health Training Center.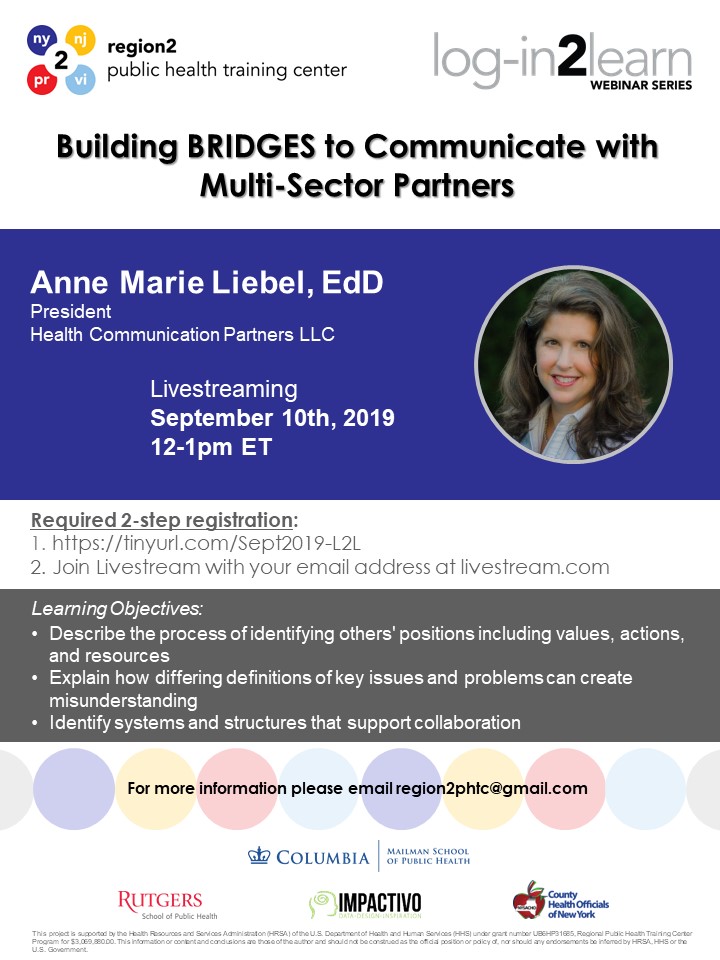 This webinar is second in a series designed to introduce communication skills that can support leaders in public health departments, specifically as they engage in multi-sector partnerships. Using the approach of building BRIDGES, this second webinar focuses on communication with partners outside public health, including businesses, lawmakers, and the media.
Public health professionals are often tasked with bringing diverse stakeholders together to find common ground in practice and policy. It is essential in such collaborative efforts to be able to build on commonalities, and communicate across differences, recognizing various stakeholders' goals, assumptions, and approaches.
Drawing on policy sociology and inquiry-as-stance, this webinar explores communication to and from policy-makers, the media, and other potential partners.
You'll have the opportunity to explore the main challenges in successful cross-sector communication. You'll examine how communicating with multisector partners contrasts with communicating with a public health audience. And you'll learn the steps for building bridges to potential collaborators.
Learning objectives:
Describe how to identify core components of others' positions
Explain how different perspectives on needs or problems can clash
Identify systems and structures that support collaboration
Many thanks to Columbia Mailman and the Region 2 Public Health Training Center. For more information, please email region2phtc@gmail.com
This project is supported by the Health Resources and Services Administration (HRSA) of the U.S. Department of Health and Human Services (HHS) under grant number UB6HP31685, Regional Public Health Training Center Program for $3,069,880.00. This information or content and conclusions are those of the author and should not be construed as the official position or policy of, nor should any endorsements be inferred by HRSA, HHS or the U.S. Government